| Name | Shieldon |
| --- | --- |
| Pokedex Number | 410 |
| Generation | 4th |
| Chance of Appearance | Common |
| Attack style | Physical |
| Pokemon Attack | Iron Head |
| Submitted By: | DK3 |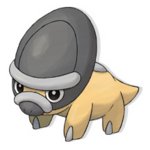 Pokemon Info
Edit
Shieldon is a small reptile with a yellow body. It has white toes and bears a white bump on its back. Shieldon has a dark-gray oval-shaped face. Shieldon may be ancient relatives to the Aron line due to identical typing and partially similar movepools, especially the ability to learn Metal Burst.
Attack Description
Edit
When Shieldon appears, it'll duck its head and charge forward aimlessly plowing through any opponents in its path. Shieldon will mindlessly smack into any walls or obstacles in its way or run straight off the stage before disappearing.
External Links
Edit
Ad blocker interference detected!
Wikia is a free-to-use site that makes money from advertising. We have a modified experience for viewers using ad blockers

Wikia is not accessible if you've made further modifications. Remove the custom ad blocker rule(s) and the page will load as expected.