| Name | Giant Donkey Kong |
| --- | --- |
| Health: Easy | 300 |
| Health: Medium | 400 |
| Health: Hard | 500 |
| Health: Very Hard | 500 |
| Health: Intense | 500 |
| Attack #1 | Power Punch |
| Attack #2 | DK's Moves |
| Attack #3 | Slam-a-Rama |
| Attack #4 | N/A |
| Attack #5 | N/A |
| Origin | Super Smash Bros. (N64) |
| Release Date of Origin | 1999 |
| Works | Super Smash Bros. (N64) |
| | Super Smash Bros. Melee (GCN) |
| | Super Smash Bros. Brawl (Wii) |
| Submitted By: | James007 |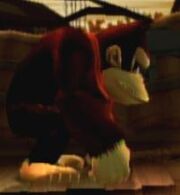 Boss Info
Edit
Giant Donkey Kong is a giant version of Donkey Kong, Giant DK was a non-playble in the Super Smash Bros. Series, then in Super Smash Bros. Melee and Super Smash Bros. Brawl, players can use Donkey Kong in Giant Melee (Giant Brawl in Super Smash Bros. Brawl), Fear Giant Donkey Kong.
Fight Details
Edit
Giant DK move like Normal DK but slower then Normal DK.
Power Punch (Easy-Intense): Giant DK will punch as powerful as normal Donkey Kong which will deal 13% damage.
DK's Moves (Easy-Intense): Giant DK will use all of the moves which Donkey Kong use, all of these moves will do sma same damage with Normal Donkey Kong use.
Slam-a-Rama (Easy-Intense): Giant DK will do a very powerful slam called the Slam-a-Rama. With that move, Giant DK slam his hand to the ground which deal 30% damage.
External Links
Edit
Official Submission Page on the Mercurious Website
Ad blocker interference detected!
Wikia is a free-to-use site that makes money from advertising. We have a modified experience for viewers using ad blockers

Wikia is not accessible if you've made further modifications. Remove the custom ad blocker rule(s) and the page will load as expected.