| Name | Flat Zone 3 |
| --- | --- |
| Location | Game & Watch |
| Home Stage of | Mr. Game & Watch |
| Hazard #1 | Octopus |
| Hazard #2 | Moles |
| Hazard #3 | N/A |
| Hazard #4 | N/A |
| Origin | Octopus (G&W) |
| Release Date of Origin | 1980 |
| Works | Vermin (G&W) |
| | Octopus (G&W) |
| | Helmet (G&W) |
| Submitted By: | DojoTL |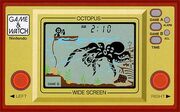 Stage Info
Edit
This is a wacky stage full of surprises.
Stage Layout
Edit
The first tier your on the Helmet stage. You then transfer to Octopus stage. Then finally to the Vermin stage.
Stage Hazards
Edit
Octopus: On the Octopus tier, the Octopus's tentacles receive when you touch them (7%-11%).
Moles: When your on the mole tier, moles pop up under ground and you receive damage (4%-8%)
External Links
Edit
Official Submission Page on the Mercurious Website
Ad blocker interference detected!
Wikia is a free-to-use site that makes money from advertising. We have a modified experience for viewers using ad blockers

Wikia is not accessible if you've made further modifications. Remove the custom ad blocker rule(s) and the page will load as expected.