| Name | Exeggcute |
| --- | --- |
| Pokedex Number | 102 |
| Generation | 1st |
| Chance of Appearance | Uncommon |
| Attack Style | Indirect |
| Pokemon Attack | Mega Drain |
| Submitted By: | Zantok |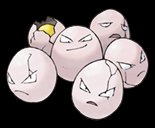 Pokemon Info
Edit
Exeggcute is a grass/psychic type Pokemon and evolves into Exeggutor when a Leaf Stone is used. While Exeggcutes may look like eggs, they are actually much closer related to plant seeds and as such they can survive even when heavily cracked or when their "yolk" is showing.
Attack Description
Edit
Thin, green strands of light will snake from Exeggcute to one of the user's opponents. When an opponent is hit, they recieve 10-18% damage. Half the damage inflicted is restored to the user.
External Links
Edit
Official Submission Page on the Mercurious Website
Ad blocker interference detected!
Wikia is a free-to-use site that makes money from advertising. We have a modified experience for viewers using ad blockers

Wikia is not accessible if you've made further modifications. Remove the custom ad blocker rule(s) and the page will load as expected.